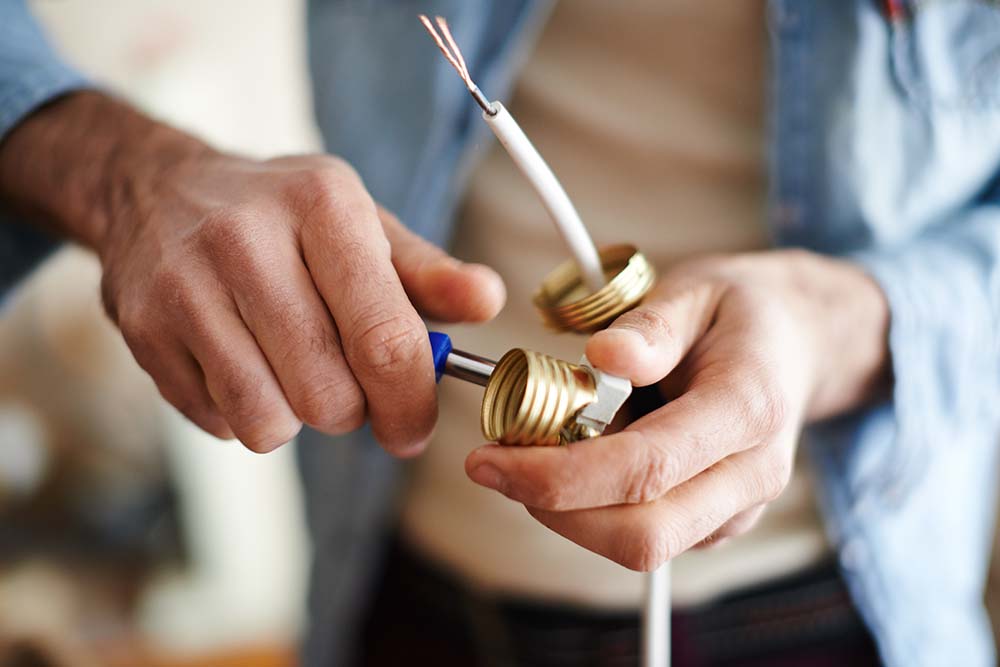 Your home's lighting fixtures are what make your living spaces comfortable, functional and inviting. A good lighting system includes a setup of several light fixtures such as sconces, chandeliers and lamps. However, it is not uncommon for something to go wrong with your lighting fixtures. So what can you do when your lights malfunction? You call service for lamp repairs!
In this blog, we will discuss common instances where you need to pick up the phone and call A Lamp and Fixture Corp. right away to avail top-notch lamp repair services.
When to Call a Lamp Repair Service
1. Cracked/Bent/Bare Wiring
If you spot a crack or a bend in your wiring, you need to get in touch with a lamp repair service right away. Any wiring problems need to be fixed immediately because they can cause a fire hazard in no time. If you see any piece of bare wire, please do not touch it. It can shock you. Instead, avoid using the lighting fixture till help arrives and fixes the wiring for you.
2. Missing Insulation
Have you noticed missing insulation near the socket? Wires need to be insulated before they are plugged in. Any loose wiring can cause shocks, and you will have a fire hazard at your hands in no time. You must contact lamp repairs service provider in this situation rather than avoiding it.
3. Lamp Not Functioning
If your lamp is not lighting up, try replacing the bulb with a new one. If it still does not work, there might be an internal problem. A trained expert from a lamp repair service will take parts of your lamp apart and study the wiring to find the problem and fix it. If your lamp is very old, there is a high probability that the wiring has taken its last breath, but if it's not, an expert will surely be able to deduce the problem and find a solution.
4. Broken Parts
Has your cord, base, rod or frame fallen apart? Most of us discard a broken lamp, thinking it is a lost cause but before you throw away your hard-earned money like that, consult a lamp repair service to see if they can save it! Most lighting fixtures, especially chandeliers and sconces, can be fixed, and the broken parts can be replaced.
You Don't Have to Search for "Best Lamp Repair Near Me" Any Longer!
At A Lamp and Fixture Corp., we treat each lighting fixture as if it was our own.  Our top priority is safety which is why we are UL Certified! Once we complete a repair project, it will last for years to come. We rewire most lamps, sconces, and fixtures, even those from Europe. Once you avail our services, you'll never have to search "best lamp repair near me" again!
So what are you waiting for? If you have a lighting fixture that needs fixing, pick up the phone and call us at 773-866-0220 for lamp repairs today. You can also visit our website and fill out a form with your message and details, and we will get back to your right away!