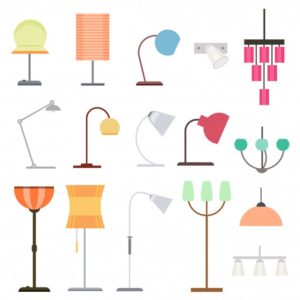 Lamps light up a room to provide a certain mood. Their beauty adds to the home's aesthetic making them both useful and attractive.
There are a variety of lamps that you can purchase to make your rooms look lovely, but if you are going for a customized look, why not make your own? You will save money and end up with a lamp that is perfect for your home's style.
Here are some DIY lamp ideas that will get you inspired. A Lamp And Fixture
DIY Wooden Table Lamp
Give your home a rustic look by using a live wood edge for your lamp base. Start by finding a uniquely shaped raw wood piece. Drill a hole through the bottom so you can run your wire through, then place a bulb on the top. Finish it off with a store-bought lampshade or one you made yourself.
DIY Branch Table Lamp
Another take on the wooden table lamp, requires a sturdy branch for your base. Affix the branch into a wooden base allowing it to stand. Then add your wire and shade and place it on your night table to give your bedroom a standout look.
DIY Minimal Wood Lamp
Minimalism is in and you can take advantage of the style to create a no fuss, accent lamp. Simply find a cylindric wooden base and put an Edison bulb on top. No need for a lampshade here. The bulb provides a unique shape that adds interest while the carrying through on the minimalist style.
A Pallet DIY Wood Lamp
A pallet can be fashioned into a terrific DIY lamp. Cut a portion of the pallet to end up with a closed wooden box. Add wiring and a lightbulb and shade and you are good to. The unfinished look will be perfect for industrial decors.
DIY Wooden Base Desk Lamp
A wooden base lamp is a handy multi-purpose tool that is terrific for the desktop. To make this device, start with a wooden block. Carve into it to make holes that hold pens, scissors and other office supplies. Make another to fit a light bulb. Run the wiring through and you have a penholder and light all in one.
DIY Mini Pendant Frame Light
For this unique light, you will need to run a wire from the ceiling and hang a bulb from it. The wire should also run through the top an empty picture frame that surrounds the bulb. This will make for a modern geometric look that's stunning and cutting edge.
DIY Pipe Lamp
Piping can provide a stylish lamp base. Take some old piping that will stand on its own on a table and run wiring through it. Affix a light bulb to the end. (It is hopeful that it will easily screw into the existing pipe). This is another style that will look great in an industrial setting.
If you are crafty, these DIY ideas will set the look of your home apart. Which will you be trying to make for your home?