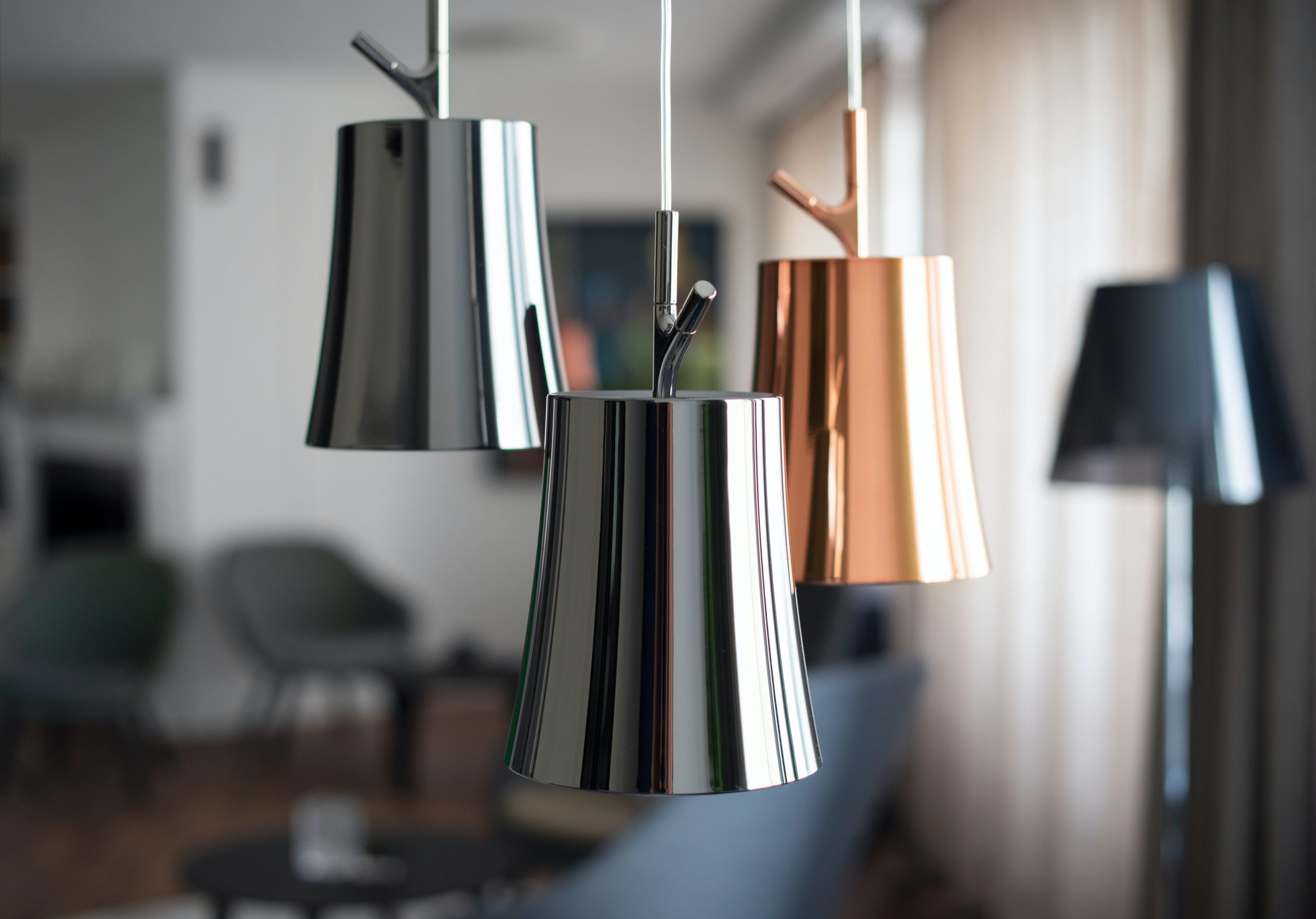 When you get new lighting for your home, you'll need to think about finishes. Finishes play a big role in your fixture's aesthetic. 
There are several lighting finishes to choose from and knowing what's out there can bring you closer to deciding on which one is right for you. This article will review the various finishes so you can determine which is best for your home.
Brass
Brass is high-end, eye catching, and it has a terrific vintage look. It brings warmth to white and brightly colored rooms and it pops in darker interiors. It is the perfect blend of edgy and traditional.
Chrome
Chrome is sleek and bright. It makes the perfect complement for modern and contemporary décor. It brings a lightness and brightness to rooms going well with various color schemes.
Nickel
Like chrome, nickel also has a silvery sheen, but it's more subdued. It's available as polished nickel and satin nickel. Polished nickel is more reflective of the two working well in dark-colored rooms. Satin has less of a shine making it a more versatile choice.
Bronze
Bronze has a gold tone similar to brass but it's not as shiny. Its earthy look makes it ideal for rooms with natural tones and elements. It goes well with wood, stone, granite, marble and more.
Black
Black has an edgy look that's bold yet classic. It goes with just about anything. It works well with a variety of color schemes and can be added to all decors ranging from modern to traditional.
Mix and Match Finishes
If you can't choose just one finish, you can always mix and match. However, you will need to find finishes that go well together and look good in your rooms. Here are a few tips that will help you achieve that goal.
Stick to 2-3 finishes: Never mix and match more than three finishes. Two or three finishes are fine, but it you do more than that, you'll end up with a look that's more distracting than attractive. 
Disperse these 2-3 finishes throughout your home: The 2-3 finishes you choose should be used throughout your entire home to keep up the theme. Go bold by adding dashes of brass or silver to every room. Keep it going with your exterior lighting as well. 
Opposites attract: When it comes to matching finishes, opposites attract. Shiny will go well with matte, warm tones will go well with cool colors. 
But matching is okay too: 'Opposites attract' is not always the rule. If you want to mix mattes with mattes, shiny with shiny, warm with warm, and cool with cool, that will work as well.
Finding the right finish for your lighting is important. While you can shop on the internet for lighting with the right finishes, it's best to do so in person. That way you know the exact color your lighting will be.
We encourage you to come into our store to see our finishes up close and personal. We will help you find the perfect choice for your home. A Lamp and Fixture will allow you to achieve the décor aesthetic you always dreamed of.
Click to learn more about our services