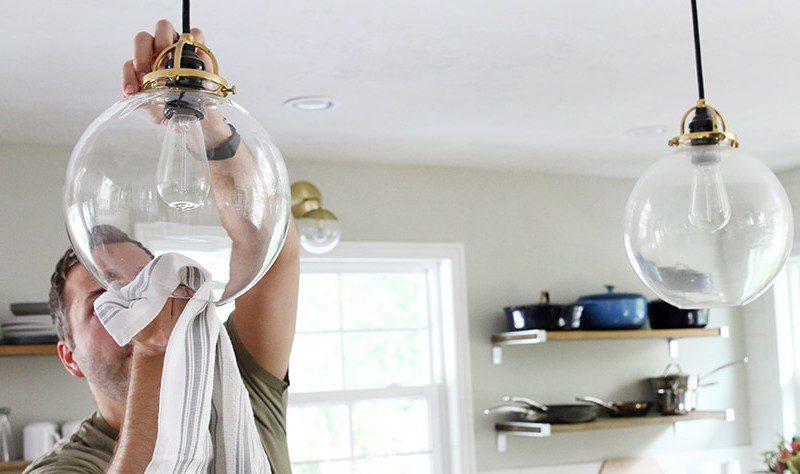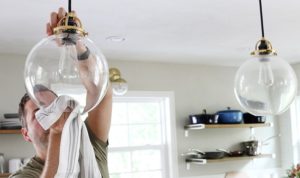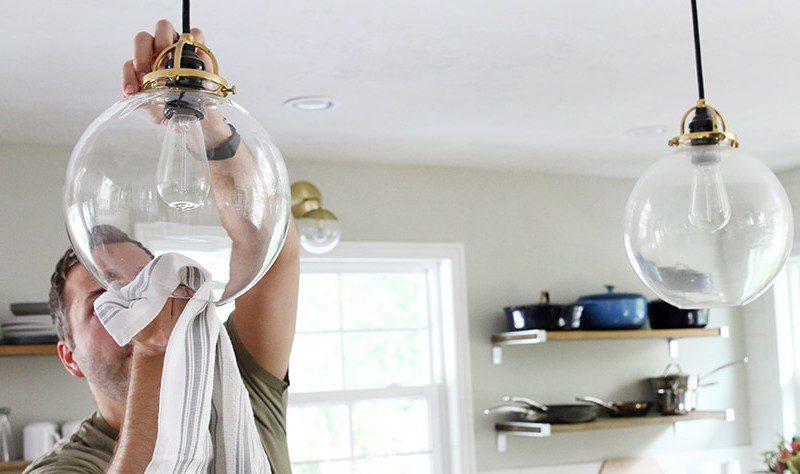 Cleaning a lighting fixture can be tricky. If you want to go beyond a basic dusting, you must be careful of the materials you are using and working with. Some cleaning methods may require you to completely disassemble the lamp.
While professional cleaning services are available, a home cleaning is doable, if you are well prepared for the task ahead of you. This article will review what's involved when cleaning various types of lamps so you can get familiar with the process.
Flushmounts
Flushmount lights are fixtures that are attached directly to the ceiling. To clean them, you will need to remove the covers and soak them in warm, soapy water. Use a damp cloth to wipe down the fixture and bulbs. Allow the pieces to dry before reassembling.
Pendants
Pendant lights, which hang down from the ceiling, can generally be cleaned in place. Wipe down the bulbs, then use a damp cloth to clean the other elements. The globes may need to be removed and soaked in warm soapy water depending on the design.
Ceiling Fans
To clean a ceiling fan, you will need to remove the globes and soak them in warm, soapy water. Then wipe down the bulbs and fixtures. Never attempt to steady yourself by holding on to ceiling fan blades as they can move leading to an accident.
Recessed Lights
A recessed light is recessed into your ceiling. To clean it, start by removing the bulb and wiping it down. Then use a damp cloth to clean the inside and outside of the canisters. Allow the fixture to dry thoroughly before replacing the bulb.
Chandeliers
Chandeliers require a more complex cleaning process as follows:
Remove the bulbs and wipe them down.
Remove crystals, pendants and saucers noting where they were placed for reassembly. Allow them to soak in warm, soapy water.
Wipe each piece down after soaking to avoid water spots.
Wipe down the base with a damp cloth.
Reassemble.
Cleaning Tips for Different Types of Lampshades
Different types of lampshades also require different cleaning methods. These include the following:
Glass Shades: A glass shade can be cleaned with a soft, damp cloth. If the shade requires a more extensive cleaning, you can use a gentle glass cleaner or soapy water.
Fabric Shades: It is best to gently vacuum fabric shades. If the shade is stained, you may need to get it professionally cleaned or you may be able to use a dry-cleaning product at home.
Beaded Shades: Beaded shades are typically fabric and will also need to be vacuumed. A damp cloth can be used to remove stains. Avoid rubbing too hard as this can remove the beading.
Paper Shades: Paper shades can typically be wiped down with a dry cloth. If the dirt and dust buildup become excessive, the shade may need to be replaced.
Cleaning a lighting fixture isn't easy. If you feel uncertain about the process, bring your pieces into A Lamp and Fixture. We will do a thorough job and get your fixture back to you safe and sound.